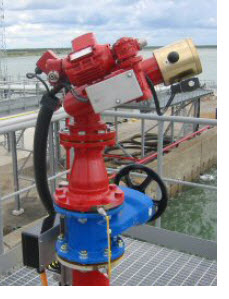 Tyco Safety Products Fire Suppression Group has unveiled a number of groundbreaking pieces of SKUM™ brand foam hardware: the new remotely controllable FJM-EL fog / jet monitor range, and the new HG high-expansion foam generators.
They join a line-up of dependable and efficient foam fire protection solutions that are globally favoured for high value, high risk petrochemical, aviation, marine and power plant applications.
The new FJM-EL monitors are powerful additions to the established SKUM FJM range. All three models – the FJM-100 EL, the FJM-150 EL, and the FJM-200 EL – offer exceptional flow performance, incorporate electric motor driven elevation and rotation and solenoid valve operated fog / jet pattern adjustment.
However, it is the FJM-EL's remote control operation that really sets them apart as fix-mounted monitors designed for the safe delivery of foam or water, either as a solid jet or a fog pattern.