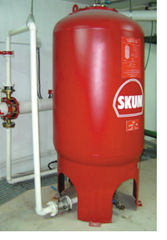 In the past there have been two problems associated with bladder tanks – the possibility of the bladder rupturing and also the inability to refill the unit during operation because it is pressurised.
Both of these problems have now been tackled and resolved by SKUM.
Unique fixing and support methods now employed by SKUM now ensure the integrity of the bladder while still maintaining the ease of bladder installation and operation.
The problem of refilling during operation has also been overcome by providing a pressurised source of foam concentrate from a mobile unit as an optional extra to the basic tank supply.  The optional mobile unit also provides a simple means of refilling after operation.
The list of advantages for bladder tank usage has now been re-written as follows:-
Few moving parts
Low Pressure Drop
Variable Flow capability
Can be used with all types of foam concentrate
No external power source required
Can be refilled during operation
Can easily be used in automatic systems
Can meet the requirements of all internationally recognised design codes
Please contact us for more information on +353 1 494 1429