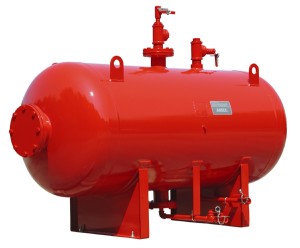 Bladder Tanks are the most common type of balanced pressure proportioning systems.  The system uses a pressure rated tank with an internal rubber bladder.  The foam concentrate is stored within the bladder and system water pressure is used to squeeze the bladder and provide pressurised concentrate to the proportioner.
Bladder tanks come in a wide range of sizes from 300 us gallons to 3000 usgal in the Ansul Product Range and from 400 litres to 25000 litres in the SKUM range.Bladder Tanks provide a self contained balanced pressure proportioning system requiring no external power or foam pumping.
Recent developments by SKUM have enhanced the advantages of using a bladder tank as the means of providing a balanced pressure proportioning system – see News items for details
Document Library
Click on the links below to download information from our Technical Library – please contact us on +353 1 494 1429 to ask any questions.